HOME | UPDATES | JOIN | MEMBERS | LINKS
Welcome at WetlookPlanet.com!
On this site you will find nice wetlook in sports clothes and sportive outfits! Adidas, Reebok and Nike sport shoes, sportswear, shiny jackets...
We post mostly wet sports clothes, but also wet and shiny outfits, there is some nice shoe-focusing and we have sets ranging from dry to wet.
But this is not a sports-only site, any clothes that fit our style are welcome!
You can even send us your favorite outfits to have a (free) custom shoot made
This weeks update:
Great movie of Divinia in tight Adidas suit, doing incredible things with her flexible body!
You will be surprised by her moves and after she gets her suit wet, by the fantastic shine she creates!
Also available as a single download at www.wetlookstore.com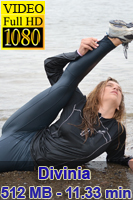 Movie of pretty Pascale in an all-Adidas suit, playing and working out in the water, good views!

The rain made it wet and muddy, but Sietske had fun anyway! Little Adidas shorts and Dunlop jacket.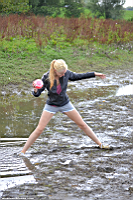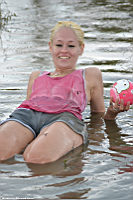 Movie of Chrissy on Global skater shoes, a white short and a thick blue New York shirt
The actual shirt and shoes used in this set are for sale at www.wetlookstore.com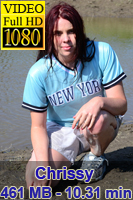 It was bad weather when Gaby went into the lake, but her personalised soccer shirt was worth it :-)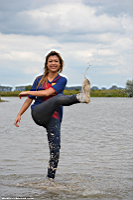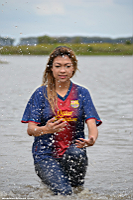 On this site we focus at girls that enjoy making wetlook, getting soaked while fully clothed. There is clothed swimming, but also posing in wet clothing.
This is a fully clothed, nonude wetlook-site. That means that all images, including those in the member area, are of girls wearing wet clothes!
USC2257: All girls on this site are 18 years or over.
---